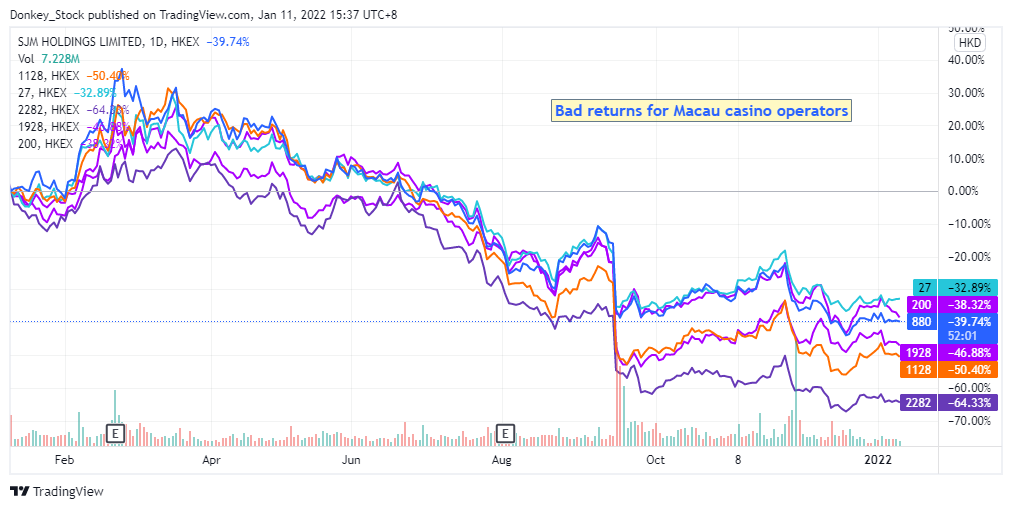 Macau's economy heavily relies on the gaming industry, for which the casino industry contributed around 50 percent to Macau's GDP from 2016 to 2019.
Over the last 12 months, the share price of Macau Casino Operators has performed badly.
>>(27:HK) Galaxy Entertainment [-33%]
>>(200:HK) Melco International [-38%]
>>(880:HK) SJM Holdings [-40%]
>>(1928:HK) Sands China [-47%]
>>(1128:HK) Wynn Macau [-50%]
>>(2282:HK) MGM China [-64%]
Here's some of the reason why the share price performance of Macau Casino operators performs so badly.
In the short term, China's "zero-tolerance" approach to the pandemic has limited the visitor volume from the mainland and demand in the high-end mass market.
In the mid-term, stronger enforcement to prevent money laundering via casinos. Macau's Suncity ceases Its junket operations in Dec 2021 adds more worries to this industry.
In the long term, the six licenses are set to expire in June 2022. According to article 40 in the Macau gaming law, their gaming operations and related equipment might be forfeited by the Macau government overnight if they failed to renew the licenses.
With the worsening US-China relationship, China holds Macau casinos as US bargaining chips and foreign casino operators have a high chance of losing their license if the US-China relationship worsens after the Winter Olympics.

In my opinion, I think Macau casino industry will exist for many years to come as Macau residents are really obedient compared to their counterparts, Hong Kongers. In return, Macau will continue to be the only city that is allowed to operate casinos legally. However, I will definitely avoid foreign casino operators at this time being.